<PIG> vs. TERMINAL: THE REMIX
| | |
| --- | --- |
| | TERMINAL is pleased to contribute a remix of Mobocracy to the upcoming PIG remix album, Pain Killer, out September 3 on Armalyte Records. Reimagining every track from 2020's critically acclaimed Pain Is God, the compilation also includes remixes by Die Krupps, Imperative Reaction, Frontline Assembly, Drownd, and the Lord of Lard himself, among others. Pre-order the Deluxe CD and digital album now on Bandcamp! |
Debut album "Blacken the Skies" out Now on Metropolis!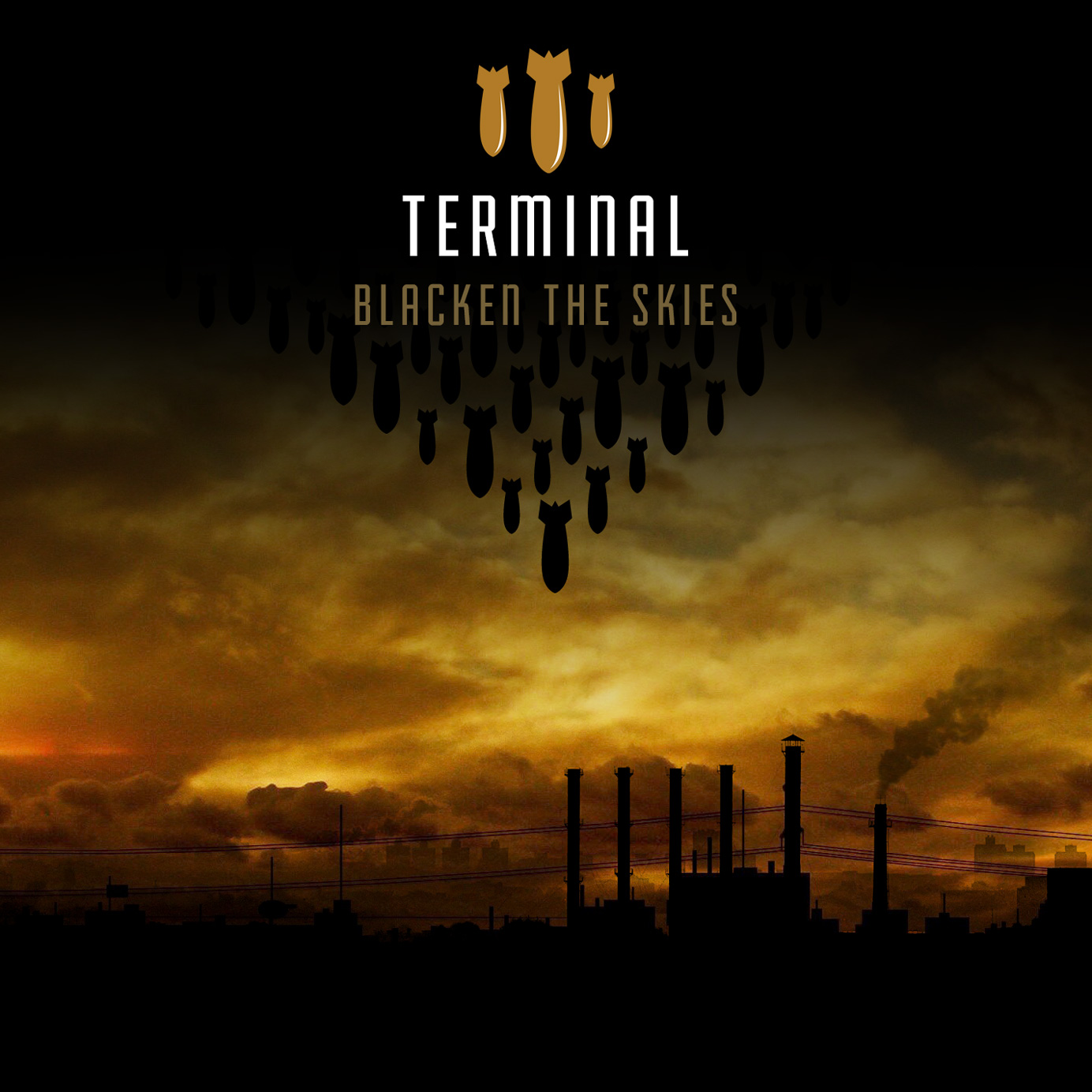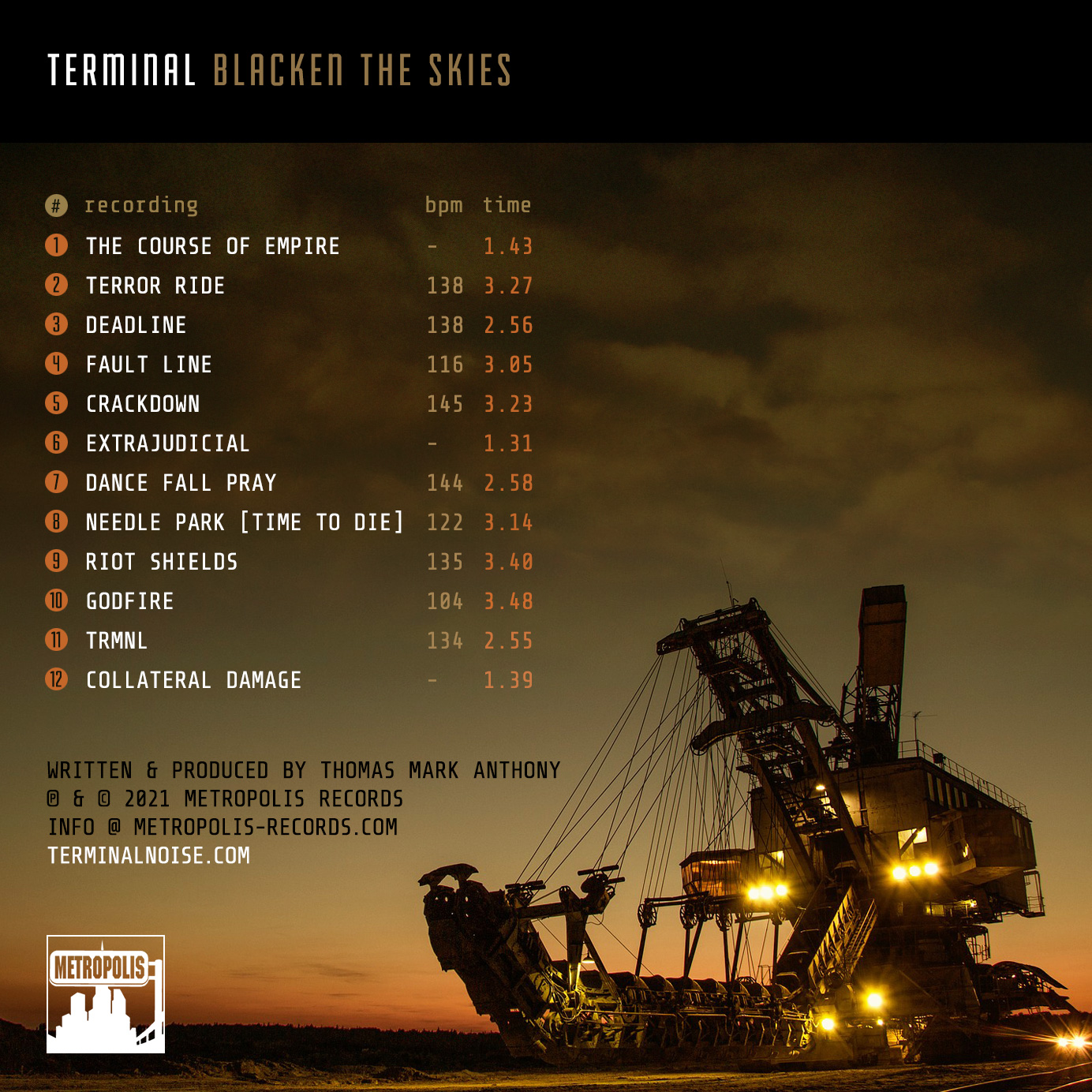 TERMINAL is pleased to announce that our debut album BLACKEN THE SKIES on Metropolis Records is now available as digital download, CD (which comes with a 16-page booklet), and all of the streaming platforms. Buy now: Metropolis Records Bandcamp Amazon
Rave Reviews for "Blacken the Skies"
9/10. "A hell of a record... It is staggering, really how it can be so heavy an oppressive and how it can groove... It's dark, twisted and nasty—and so far as I can tell, that makes it the perfect soundtrack to 2021." — Andy Thorley, Maximum Volume
"Terminal's debut album, Blacken The Skies, provides a dark and powerful soundtrack to an environmentally degraded world. The man behind the project, Thomas Mark Anthony, delivers a manifesto in a rampage of relentless, industrial/glam rock fusion in such a way that it cannot, nor should be, ignored." — Ian Corbridge, Louder Than War
9/10. "Terminal's debut album has got it all and makes crystal clear... that the time has come for thou metalheads to surrender to the new soundtrack for our apocalyptic world." — Wallace Magri, Ever Metal
"In places you can recognize EBM, Dark Rock, Gothic Rock, Wave and even Synth-Pop. And all of this fits together wonderfully... I recommend every inclined Electrohead to listen to 'Blacken The Skies'" — Medienkonverter [German]
"Glam, industrial rock and a political message... Should appeal to both synth fans and hard rockers." — Kristofer Hadodo, Gaffa [Swedish]
"'Blacken The Skies' is both an indictment and a call to resistance... This is an excellent and original industrial-electro and EBM album by a band that deserves a place on the bigger festivals within 'die Schwarze Szene'." — Koen Asaert, Snoozecontrol [Dutch/Belgium]
"DEADLINE" · Official Video
DEADLINE: A tribute to journalists around the world who risk everything to speak the truth on which freedom depends. Learn more about ending violence against journalists at Reporters Sans Frontières. Director: Heather Rosenfeldt.
This is a sound I think I've been looking for but didn't know it yet. Catatonic @ EBM-Radio.com
We're headed breakneck towards a train wreck
Forsaking honour for a vast charade
Ever descending towards the ending
We filled a prison for the bastard god TERMINAL · "Terror Ride"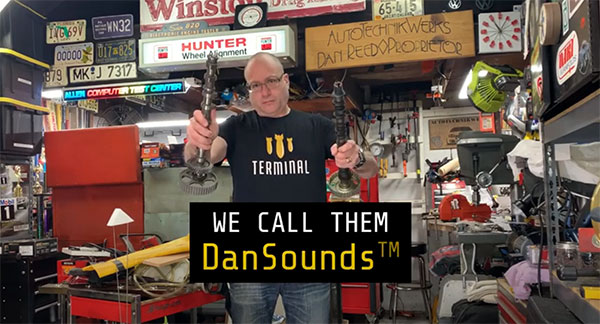 Meet The Noisemaker
If you've ever wondered where we get those industrial metal-on-metal clanging, banging and grinding sounds, they come from this guy. His name is Dan Reed. Watch the master at work.
Preview the debut album "BLACKEN THE SKIES"
Available now on Bandcamp and everywhere else this sort of thing is sold.
Terror Ride
Deadline
Fault Line
Crackdown
Dance Fall Pray
Needle Park [Time to Die]
Riot Shields
Godfire
TRMNL
All songs: words and Music © TERMINAL.
Voices drowning under virulent rain
Force of violence for defiants remain TERMINAL · "Dance Fall Pray"